Homemade Microwave Popcorn Popper
This is a fun little hack that i have come to love. We are basically turning a bowl into our very own microwave popcorn popper. And we don't have to pay extra money for something that we most likely may already have in our kitchen.

Using a microwave safe bowl will allow you to add butter, seasonings, and other ingredients. You control your own ingredients.
Or, just eat it plain and all natural.
Essentially, it's as healthy as you allow it to be. Until you start adding unhealthy ingredients. It's entirely up to you and how you want to feast on this lovely snack.
For this next demonstration, I'm using a medium size multi-purpose bowl from my Sterilite 8 piece bowl set used for mixing, storage, and serving. And now as a popper.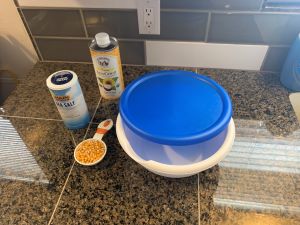 You'll need a microwave safe bowl with a lid (or something that can be used as a lid), 1/3 cup of kernels, and your choice of seasonings to top it off.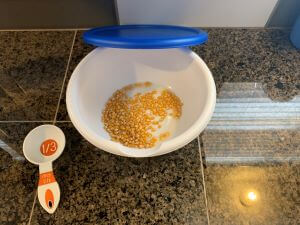 Add the kernels to the bowl. You can add a tablespoon of oil if you would like, but I generally prefer not to because it seems to get a little messy.
Place the lid loosely on the bowl and microwave on high for about 2-3 minutes, until it's done when you hear about 4-5 seconds in between popping
It's not necessary to tightly secure the lid. Just place it on top of the bowl to prevent the popcorn from bursting out all over your microwave.
Once it's done, carefully remove from the microwave. Be careful because the bowl will most likely be hot, especially the steam coming from inside the bowl of freshly popped popcorn.

Now is the best time to add seasonings.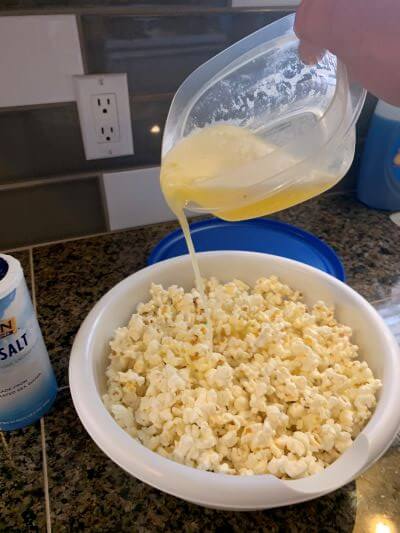 I melted a stick of unsalted butter and poured it on.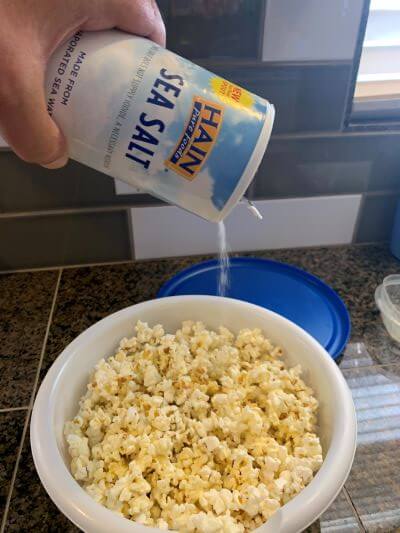 Add salt and any other seasonings you want.
Serve it up to your family and friends, or hoard it all to yourself. Enjoy!

Grab a bowl of popcorn, an ice cold beverage, and cozy up with a good movie.