How To Make Peanut Butter Popcorn
What you will need:
popped popcorn
peanut butter
serving size bowl
small melting pot

Side notes: Here we are using creamy peanut butter. This recipe works with crunchy just as well. Or add your own peanuts if you like.
Although it's recommended to use mushroom popcorn, we are using butterfly popcorn (grabbed the wrong bag at the store). Oh well, it's all good because it tastes freaking delicious!

Peanut Butter Popcorn Recipe Directions
Make your popcorn how you normally would - microwave, stovetop, or hot air popper. If you're looking for suggestions, check out our recipe section about how to make popcorn on the stovetop.
For this demonstration, I have a medium sized serving bowl full of popcorn ready to go.
Add about 1/2 a cup of your favorite peanut butter into a microwave safe vessel. Alternatively, you can use a small melting pot or sauce pan to heat up on the stove. Again, completely up to you.
Microwave on high for 30 seconds. Carefully remove from the microwave and give it a quick stir. It should be loose enough to smoothly pour as a thick liquid. If necessary, warm it for a few more seconds as needed.
Top Tip: If you're still unhappy with its consistency, here's a little trick. Peanut butter contains oil. So, you may want to add a little bit of oil while stirring or whisking it until it's as loose as you prefer. The ingredient label on the peanut butter container will state which type of oil is present. Most likely palm fruit oil and/or vegetable oil.
Drizzle the peanut butter all over the popcorn and mix it all together.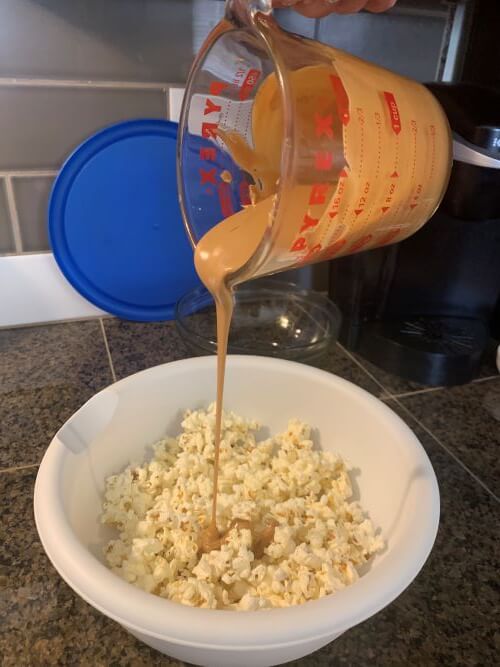 Giving the popcorn a little bath with a dousing of peanut butter.
I usually put the popcorn in a bowl, pour on the liquified peanut butter, secure a lid on top, then gently shake, rattle and roll until it's thoroughly mixed.
If you don't have a lid for said bowl, aluminum tin foil or saran wrap will do just fine. Some people will just use a spatula or a wooden spoon, or even their bare hands. Whatever it takes to get all that yumminess mixed up together, right?