The Tasty Popcorn Popper Packaging
This little thing immediately caught my eye in the store.
But, what really got my attention, was what I discovered after I picked it up off of the shelf.
The packaging is loaded with lots of pun-filled sayings. Although some of it sounds kind of cheesy, I couldn't help myself from laughing out loud right there in the store. I just wasn't expecting to see this type of stuff written on normal product packaging. Not that it's unusual, it just caught me off guard.
These also are sold packaged up in a box, especially if ordering them online.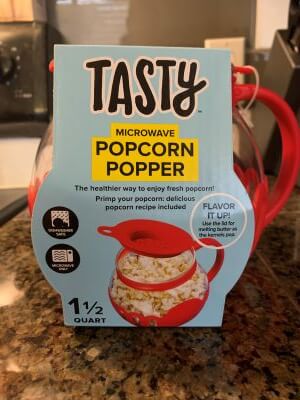 Front of package.
The front is mainly just showcasing what the popper is, along with a few other small statements to grab your attention, and to make us feel comfortable with owning one.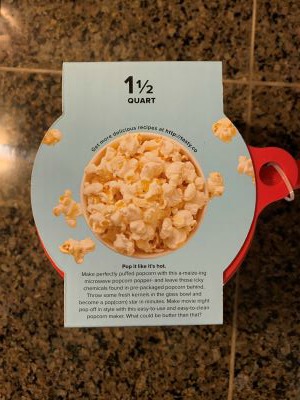 Top of package.
The top is just informing us that using this glass bowl is healthier than using pre-packaged microwave popcorn, which are lined with icky chemicals. I concur!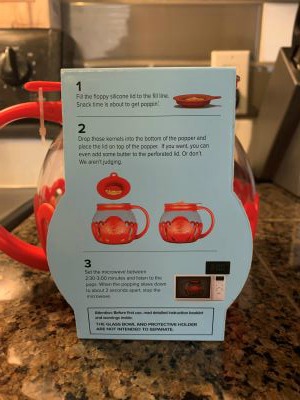 Back of package.
The back demonstrates how simple it is to use, in just 3 easy steps.

So now, we've pulled the cardboard packaging off of the bowl.
There's a plastic zip tie thing-a-ma-jig wrapped around the handle and the lid. This is just to ensure that the bowl and lid aren't separated prior to the consumer getting it home all in one piece.
Go ahead and cut that off and discard it. We definitely don't want that junk melting in the microwave.
Snipping the zip tie.
The popper.
After removing the booklet from inside the bowl, I took a quick look at the cute little bowl in all it's glory.
My immediate first thought was that it looks just like a coffee pot.
Since I got this right before Halloween, I also thought it could be used as a candy bowl, maybe even throughout the holiday seasons. Or maybe even as a mint jar for the office where my wife works.

Others have said that it might be cool to use as a little fish bowl.
Comment down below in the Facebook commenting section if you've found other uses for this bowl, other than making popcorn in it.

The Instructions, Warnings, And Tips Booklet

Tips and a popcorn recipe.
As shown directly above and below, this is the front and back sides of the little booklet that came inside the Tasty Microwave Popcorn Popper bowl.
One side provides important warnings, safety and care, and the microwave popcorn popping instructions.
The other side gives some pretty cool and valuable tips to help assist you and I with making popcorn as perfect as it possibly can be. And there's a recipe just in case you want to switch things up and doctor up your popcorn.

One of my favorite statements they say is, "Staring contests with microwaves are not recommended."

Warnings, safety care, and instructions.
Although nearly the entire packing stuff is full of puns and funny excerpts to make us laugh, they know when to get serious.
They do not take the Warnings and the Safety & Care sections lightly. They're all serious business with that, as we all should be. Safety always comes first a foremost. Then we can pop it like it's hot!